Content Aggregation Capability
FanNewscast's platform provides advanced content aggregation capabilities and offers the most extensive breadth of subjects available in the content marketing marketplace. We have a custom developed information taxonomy that covers:
16 industry groups and over 300 industry news sectors
Over 300 professional topics
More than 315 consumer interests

---
The Curation Process:
Our approach to aggregation utilized human intelligence experts to classify the best sources of content for each of the 900 subjects including magazines, newspapers, top blogs, videos, industry associations and industry journals. This approach provides a higher quality stream of content versus providers that use spiders or web crawlers to aggregate content. The platform continuously aggregates content from over 17,000 publishers. The aggregation solution clearly identifies the source for each article, provides a short abstract, and links to the source publisher if the user wants to read the full article. A click on an article abstract is configured to open a new browser tab and enable the user to read the full article and easily return back to the integrated stream of aggregated content.
---
Powered By FanNewscast:

To view and example of content aggregation and curation capability of our platform, you may visit our UtilitiesNewscast website that aggregates, sorts and ranks the biggest stories and trends for the Utilities Industry. The UtilityNewscast website (powered by FanNewscast) auto-identifies the most engaging content based on the measurable "earned media" reader engagement with content. The Utilities Newscast site delivers up-to-the-minute industry content and provides personalization features for readers to follow specific topics or companies they care about. Readers may also search and follow news and plug in keywords to create personalized eNewsletters to deliver their specific news interests on a daily or weekly basis. The site also features several digital community capabilities including: easy social sharing, customizable alerts, and discussion threads. The site is a hub of activity for Utilities Industry professionals to easily find the sector-specific news that matters most to them. Our FanNewscast offering provides UtilitiesNewscast type of capabilities for over 900 subjects.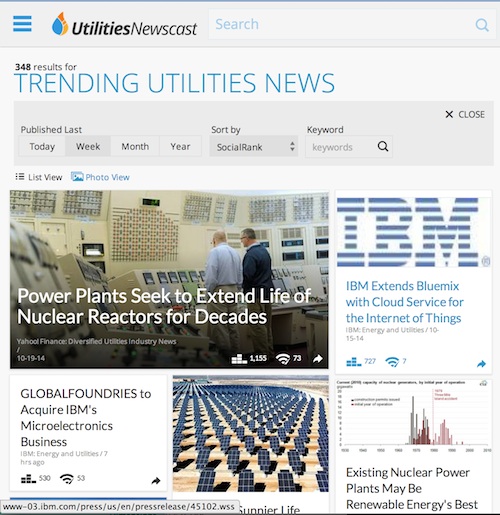 In addition to content aggregation, our platform has proprietary technology to help automatically curate the best content.
---
If you are interested in content aggregation or content curation solutions, please contact us.